1. COMFORT
Unfortunately, most people prioritize design and style over comfort when shopping for a wedding band. Since this is one jewelry piece you intend to wear daily, don't compromise on comfort. Be practical and take factors like your lifestyle, the nature of your job, personal preference, your finger's thickness, and more into account, before deciding on the final design. Attributes like the ring's width, thickness, metal, and silhouette significantly contribute to how comfortable the ring feels on your finger. Most people confuse a ring's thickness and width as the same, but the two terms are notably different. The thickness of a ring refers to the distance between the top surface and the bottom surface of the ring, while the width is the distance across the ring at its widest point.
Width
Generally, women opt for a wedding band of 4mm to 6mm in width, which is considered broad enough. Anything beyond that falls into a "wide wedding band" category. While wide rings have a more contemporary feel, a narrow wedding ring is a more practical choice if you lead a more hectic lifestyle or have a job that needs you to type or gesticulate more with your fingers and hands. Finally, choose a width that feels comfortable and looks aesthetically attractive on your finger.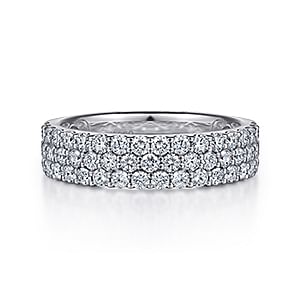 AN8181W44JJ
Wide 14K White Gold Prong Set Diamond Anniversary Band; Width - 4.99mm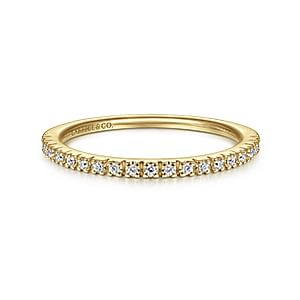 AN7754Y44JJ
14K Yellow Gold Prong Set Diamond Wedding Band; Width - 1.29 mm
Thickness
While a wedding band's thickness is not an aspect highlighted enough for the comfort quotient, it plays a major role. Ensure that the ring feels neither too heavy nor flimsy on your finger. If you have slender fingers, choose a slimmer ring, while those with thick fingers can opt for a proportionately thick ring. However, the standard thickness for a wedding ring is around 2mm to 2.5mm. Thicker rings fit more snugly on the finger than thin rings with lesser metal. Hence, two rings in size-6 with different thicknesses will fit differently on the finger. Also, rings that are too thin may be prone to breaking or bending, while an overly thick ring may be straining on the finger when worn all day long.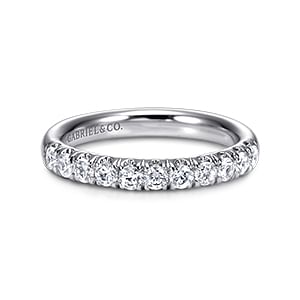 AN6072W44JJ
14K White Gold 11 Stone French Pavé Diamond Wedding Band; Thickness - 2.50mm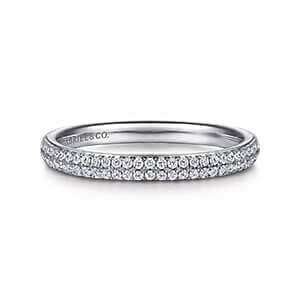 AN7661W44JJ
Two Row 14K White Gold Micro Pavé Diamond Anniversary Band; Thickness - 2.00mm
2. LONGEVITY AND DURABILITY OF THE METAL
When choosing the metal for your wedding band, the options can feel endless. From classic gold to modern titanium, the metal you choose will impact not only your ring's look but also its durability and comfort.
Gold Variants
Gold is the most popular choice for wedding bands – from white gold to yellow, there are plenty of options. What most people don't realize is that a higher karat does not necessarily translate to a higher quality and durability with gold. 24-karat gold, on its own, is an extremely soft metal to be fashioned into jewelry. Alloying it with other metals only strengthens its composition and enhances its longevity. Most wedding rings are molded in 14K or 18K gold. While yellow and rose gold variants carry the natural color and sheen of gold and that of the fused metal, white gold is further layered with rhodium to enhance its gleam. The latter has to be periodically re-polished to maintain the brilliance and quality of the white gold ring. If you're looking for hassle-free maintenance, choose the yellow or gold metals over their white counterpart.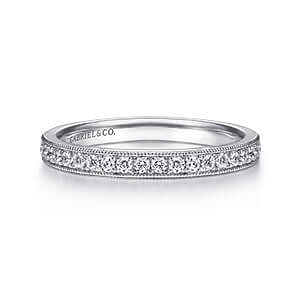 AN7643W44JJ
14K White Gold Micro Pavé Channel Diamond Wedding Band with Milgrain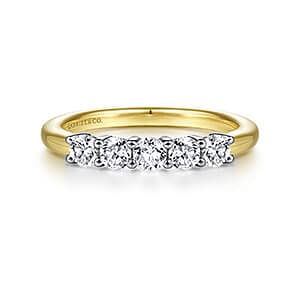 AN14955M44JJ
14K White-Yellow Gold 5 Stone Diamond Anniversary Band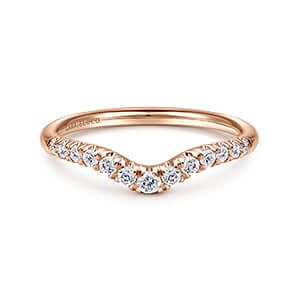 AN10974K44JJ
14K Rose Gold Diamond Anniversary Band
Platinum
Platinum is the most luxurious metal for wedding bands, as it's one of the rarest and strongest precious metals. Interestingly, white gold was originally created as a substitute for platinum during wartime. If money isn't an issue, this is the perfect wedding band: it's hypoallergenic (least prone to causing skin allergies) and far more durable than any other metal, making it worth the cost.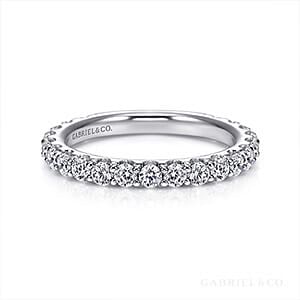 AN7957PT4JJ
Platinum Diamond Anniversary Band
3. BUDGET
While engagement rings are usually lavish and expensive, wedding rings are comparatively easier on the pocket. A woman's wedding ring usually costs between $500-$8,000, but premium selections are available for $10,000-$15,000 and beyond. There are three segregations – affordable, middle, and high price-point. Make sure the amount you're spending is worth it by evaluating attributes like the ring's design, metal, the inclusion of diamonds or precious gemstones, the brand's stature, and the supremacy of the craftsmanship. Buying Gabriel & Co. from Windsor Jewelers ensures that the quality is peerless and that you get the best value product for your money.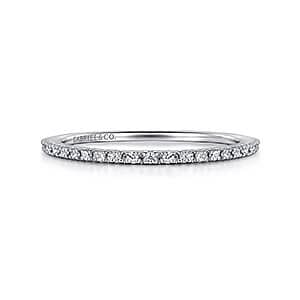 AN7650W44JJ
14K White Gold Prong Set Diamond Wedding Band; Priced at $775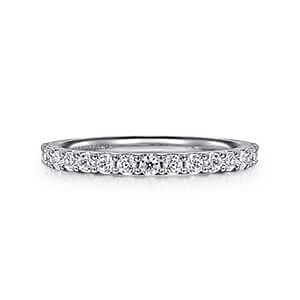 AN7574W44JJ
14K White Gold Shared Prong Diamond Wedding Band; Priced at $1,625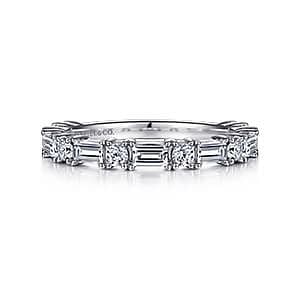 AN15578W44JJ
14K White Gold Baguette and Round Diamond Anniversary Band; Priced at $3,450
4. FINGER SIZE
A wedding ring is worn through different phases of a woman's lifetime, as she lives through varying life changes. Our finger size changes even during a regular day: fingers are bigger in the morning and bloated after consuming salt or alcohol. At night or while swimming, finger size shrinks. For many people, their fingers swell as they sleep or travel. This makes it very important to find a ring size that feels comfortable now and hopefully fits well, even in the future.
- Look at your knuckles: If you have large knuckles, order half a size bigger than your finger; this way, the ring can slide on easily.
- Measure multiple times: Measure your finger 3–4 times during the day to ensure the ring fits well at all times.
5. COMPLEMENTING THE ENGAGEMENT RING
Engagement rings are usually purchased before wedding bands, so if you want to stack both rings together, look for a few specific attributes when buying the latter. Consider the style and design of both rings. One way to ensure that your wedding ring complements your engagement ring is to choose a band with similar metal type and finish. For example, choose the same variant of gold, between yellow, rose, and white gold, as that of your engagement ring.
Another way to match both rings is to select a wedding band that has a similar design or style. For example, if your engagement ring has a vintage or antique look, a wedding band with similar detailing, such as filigree or engraving, will enhance the impact of both rings when worn together. If your engagement ring has a more modern or minimalistic design, a simple, clean-lined band will complement it beautifully.
You can also consider wedding bands with similar gems or diamond accents. If your engagement ring has diamonds, choose a wedding band with diamonds too (preferably in the same color and clarity), or opt for a band with a similar gemstone, such as sapphires, emeralds or rubies.
Width is another factor to keep in mind when stacking your bridal rings. Be sure the wedding band is not too wide sit comfortably on your finger without looking too cluttered. The unspoken rule is to always match the width of your wedding band to that of your engagement ring. So, if your engagement ring is thin, go for a thin wedding band that looks chic and uniform.
Finally, if you fall in love with a wedding band that does not go well with your engagement ring; go ahead and buy it. Wear this wedding band on its own, and to accentuate the look of your engagement ring, you can always buy a ring enhancer or ring jacket, like the one shown below, and have beautiful rings (engagement and wedding rings) on your two fingers, rather than stacking both on one.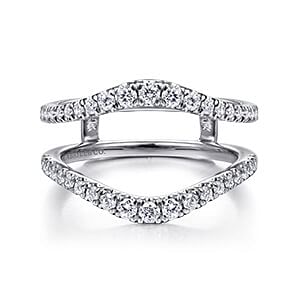 AN14749M-W44JJ
14K White Gold Diamond Ring Enhancer
6. MATCHING THE GROOM'S WEDDING RING
As partners, you'll probably love to wear matching wedding bands – a constant reminder of your love and marital bond. What an eternal expression of romance! One way to have complementing bands is to choose the same metal color, width, and thickness. Both wedding bands can have similar diamond or colored gemstone styles. You can even go a step further and engrave your initials or wedding date. Let these bands symbolize your unending love and commitment toward each other while they sparkle beautifully on your fingers.
7. AESTHETIC COMPATIBILITY/LIKEABILITY FACTOR
And finally, aesthetics. A wedding ring is your constant companion, just like your partner, and there will rarely be a time you'll take off your wedding band. So, while choosing, ensure the design and overall style are closest to your liking and aesthetic sensibilities. Once the comfort, size, and budget parameters are sorted, it should be a wholehearted love affair between the bride and her wedding ring. Choose yellow gold if you are a classic lover, rose gold for a vintage-romantic vibe, and white gold if elegant is your middle name. If classy tastes appeal to you, and you can spend a little more, platinum should be your selection. For highlighted bling, pick a design with diamonds or colored precious stones. Eternity bands for the charming, fashionable woman and pavé setting for the graceful lady. Make a statement with fancy-cut diamonds rather than conventional round-cut diamonds if you have a strong, bold personality. Let the wedding ring speak distinctively of your rich personal style, not just your marital bond.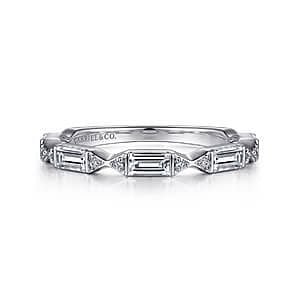 AN15555W44JJ
Porta - 14K White Gold Diamond Anniversary Band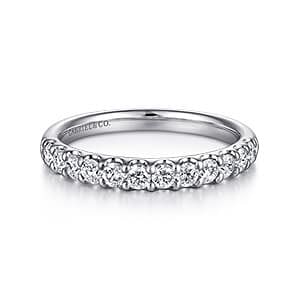 AN5337W44JJ
Tula - 14K White Gold Round 12 Stone Diamond Wedding Band
Finally, apart from the above seven aspects, the perfect wedding ring is the one that looks gorgeous on your finger and makes your heart happy. Discover a wedding ring that is unique to you from the vast collection of designs from Gabriel & Co. at Windsor Jewelers during our Spring Bridal Show on Saturday, April 1st in Winston-Salem and Saturday, April 22nd in Charlotte.